At the British Engines Group, we are proud of our reputation as a family-run, family-oriented business. With many of our sites based across the North-East, we employ several generations of families from across the region.
In the last of our interviews recognising the part that local people have played in helping us to reach 100 years, we spoke to Wendy, Director of HR at the British Engines Group, and her daughter, Emily, who works as a Quality Coordinator at group company, BEL Engineering.
Can you tell us about your current roles at the British Engines Group?
Wendy: I'm the Director of HR for British Engines, so I look after the HR function across the group's businesses. As part of my role, I am responsible for our companywide training and development programme as well as our award-winning apprenticeship scheme. At the moment, I am managing the implementation of a new HR system, looking after the apprenticeship recruitment process and supporting with the arrangement of the apprentices' team building trip to the Lake District. I actually celebrated my ten year anniversary with the business in May!
Emily: I am a Quality Coordinator at BEL Engineering so I am responsible for releasing parts, reviewing reports and calibration. I usually look after all internal orders, so I release parts for BEL Valves, Stephenson Gobin, Michell Bearings and Rotary Power. I've actually been with the business for over a year now, time has flown!
Can you tell us about your journeys through the business so far?
Wendy: I initially joined the business in 2012 as a Senior HR Advisor to implement two parts of the new HR system. I also worked as the HR Business Partner for Rotary Power and looked after the HR function for Stadium Export Services and Stephenson Gobin.
I was then promoted to Group HR Manager where I looked after administration, policies and procedures for the group whilst continuing to manage the HR system and the HR function at Rotary Power. In 2017, I was made Director of HR so I became responsible for the HR function across the entire group.
My role has naturally developed and changed over the years as structural changes have occurred and new businesses have been added into the group, such as Michell Bearings.
Emily: I started as a Quality Administrator in April 2021 covering maternity leave before being offered a permanent role in September 2021. Earlier this year, I was promoted to Quality Coordinator and I am currently undergoing training to become a Technician. I love taking on new challenges and learning new skills so I feel that has helped me to progress quickly over the past year!
Did you suggest to Emily that she join the group Wendy?
Wendy: Emily initially wanted to do a commercial apprenticeship with us but then the opportunity to join as a Quality Administrator presented itself and she went for it!
I was keen for Emily to join the group because I really enjoy working here; it's a friendly business with a lot of history and it really has that family feel to it. By joining a business of this size, I felt like Emily would be able to fulfil the amazing potential that she has, gain lots of experience and really progress her career.
My son, Luke, also joined BEL Valves in September as an apprentice, so we have three family members working across the group! The training programmes we offer for both apprentices and graduates are some of the best in the North East, so I'm really glad both Luke and Emily have the opportunity to experience that. I've seen such a difference in Emily, she's grown so much as a person and really developed her ability to handle pressure.
What changes have you seen during your time working at the group?
Wendy: Since I started, many of the businesses, apart from BEL Valves and BEL Engineering, have relocated from St. Peter's to alternative sites. BEL Engineering and Tyne Pressure Testing were both founded during my time here and we have also acquired Michell Bearings from Rolls Royce. As a result of its expansion over the years, the group employees a significantly higher number of people and our overseas reach has increased massively.
The world has changed so much over the last couple of years and there has definitely been a cultural shift both inside and outside the business. We've been doing a lot of work internally in terms of engagement and supporting our employees as they come to terms with what has happened over recent years.
What do you like most about working at the British Engines Group?
Wendy: The variety and the people are what I enjoy most. There's always a new challenge to understand and overcome.
Emily: I'd say the same, you never have the same day twice!
Wendy: The business itself has such a history in the North East as well, so to be a part of that is great.
What do you think will happen at the British Engines Group over the next 100 years?
Emily: Even whilst I've been working at BEL Engineering, we've grown and expanded a lot so I'd like to think that growth and progress will continue over the years.
Wendy: I hope the group as a whole continues to grow, investing in its people and expanding into new markets and industries. I also hope it stays family owned; it's impressive to have maintained that over 100 years and the family feel is important. We have such a good name within the North East; many people have worked here or know someone who has. The apprentices often say things like, "my dad says British Engines is a really good company to work for!" I hope we continue to invest in the apprenticeship and graduate programmes to bring new engineering talent into the industry. I'd love to see even more women and people with diverse backgrounds train with us too, that's something I'm passionate about.
What do you like to do together in your spare time?
Wendy: We do spend quite a bit of time together. Emily will often come for walks with me in the woods when I do my red squirrel monitoring and conservation. We also enjoy shopping together!
Emily: We really like going to the York Designer Outlet, that's always a nice mother/daughter day. Sometimes we drag my brother, but most of the time we'll just go the two of us. One thing I really like about living at home is being able to come into the living room and just sit with my mum and have a chat, it's lovely having her there.
Wendy: We chat about everything! We've got a close relationship which I'm really grateful for.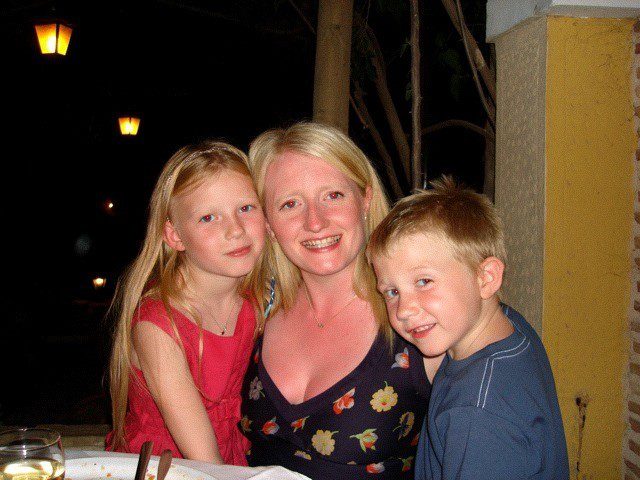 What do you admire most about each other?
Emily: My mum takes on so many things at once which I think is amazing, she's a fantastic multi-tasker! The amount of things she gets done both at work and at home is incredible and something I am genuinely grateful for. My mum does so much to help me out and I really do appreciate it.
Wendy: Emily has achieved so much over the last twelve months, she's really committed to doing a good job and her confidence has grown massively. I put a lot of pressure on myself to work hard and do things well and I can see those traits in Emily. The amount she has taken on and learnt since starting makes me so proud! She's got fantastic attention to detail as well, which you can see reflected in how well she does her makeup, and I think that's another quality that makes her so good at her job.
What's the best advice you've had from each other?
Wendy: Emily often tells me to take a break because I don't do that enough and she's right!
Emily: Back in high school, when I was 13, I had to do a presentation and I was really nervous. Mum told me that as long as I spoke with confidence, people would listen and believe what I was saying. I've taken that advice forward, believing that if I act confidently, I will be seen as confident and feel confident. That piece of advice has quite a big impact on me.
Thank you very much for speaking to us Wendy and Emily, we wish you both the best of luck as you continue in your roles at the group!
Find out more about the history of the British Engines Group and how we celebrated our 100th year anniversary.