We welcomed our 2021 apprentices at CMP's facility in Cramlington for their induction into the British Engines Group Apprenticeship+ scheme.
We caught up with two of the apprentices, Ben Garrow, who will be working at group company BEL Engineering, and Olivia Knox, who will be working at CMP, to find out what made them apply for the British Engines apprenticeship scheme.
First of all, congratulations on beginning your apprenticeships! How have you found today so far?
Ben: Thanks! It's been really interesting, I've really enjoyed it. It's been great meeting my mentors, Ryan and Chris, as well as other people I'll be working with at BEL Engineering.
Olivia: It's been good, it's been really nice getting to know everyone. I'm doing my apprenticeship at CMP Products, so it's been good to have the chance to come to CMP's facility to see what it's like.
Why did you apply for the British Engines Apprenticeship+ scheme?
Ben: I did BTEC Engineering at 6th form, which I found really fun, especially when we got to work on the machines in the workshop. I decided to apply for the apprenticeship at BEL Engineering because it specialises in precision machining for different industries. Working on the machines is what I enjoy most, so this will give me the opportunity to work towards a career that I enjoy. Personally, I think apprenticeships are better than going to university because you get real, hands-on work experience.
Olivia: I originally went to Newcastle University to do a degree in maths because I wanted to get into engineering. However, I found that I didn't really enjoy it because it wasn't hands-on, so I dropped out. I heard about the apprenticeship last year through a friend who said British Engines was a really good company to work for, so after doing a bit of research, I decided to apply.
What are you most looking forward to as part of your apprenticeship?
Olivia: It might sound nerdy, but on Thursdays we have our BTEC Maths lessons and I'm looking forward to those because I really enjoy maths! I'm also looking forward to the hands-on elements, getting on to CMP's shop floor, working in the different sections of the business and seeing what I enjoy most and what I'm best at.
Ben: I think it will be fun to get real-life, hands-on experience working on live projects. Before beginning my apprenticeship, I've had no real work experience, so the feeling of having an actual job is something I'm excited about. I'm also looking forward to having an impact by making something that will be used in a live project.
Where do you see yourself in 5 years?
Ben: That's a hard question! Hopefully I will have completed the apprenticeship and have a full-time job at BEL Engineering. Having the chance to try out different areas of the business as part of the apprenticeship will hopefully give me a better idea of which area I'd like to specialise in. I did try using design software like CAD during 6th form, which I enjoyed, so I would also be keen to improve my skills using that.
Olivia: Hopefully I will have finished my apprenticeship and be employed at CMP. I really want to progress upwards within the business and get into a senior management position. I like the fact the British Engines Group are known for promoting talent from within the business, so an apprentice can work their way up.
What advice would you give to someone who is considering applying to the apprenticeship scheme?
Ben: Go for an apprenticeship that you will enjoy. Make sure you put in the time and research to check that the apprenticeship you're applying for includes the areas that you want to learn about. I chose BEL Engineering because it specialises in machining and this is the area of engineering that I enjoy most.
Olivia: I think there can be a lot of pressure to go to university, particularly if you're more academic. Apprenticeships are often overlooked, even though they can be better for some careers, particularly if there is a hands-on element. Doing an apprenticeship can also make you more employable because you develop more real-world skills.
What was the application process like?
Olivia: I had my interview and tests at TDR, which were fine, then I had my interview at CMP. Everyone was really nice and friendly, which put me at ease, and I felt comfortable to ask questions to make sure the apprenticeship was right for me.
Ben: I hadn't done many interviews before so I was quite nervous before the interview. However, as soon as I got into the interview room I was completely fine! I think it's important to try not to be nervous and remember that the interviews are just an opportunity for people in the business to get to know you.
What do you like to do in your spare time?
Ben: I really like playing football with my friends. Actually, my friend recently started a 5-a-side team which I'm going to be playing in this Sunday, so I'm looking forward to that! Other than that, I like going running and spending time with my family and friends.
Olivia: I actually have another job as a bartender in town, so I plan to continue doing that one day a week.  I really enjoy the social aspect of the job and I have lots of friends there too. Other than that, I've just been trying to get back to normal after the pandemic, making sure I get to see my friends as much as possible now things are open again.
We wish Ben, Olivia and the rest of the new apprentices, the best of luck as they begin their apprenticeships and hope to catch up with them again as they progress in their careers with us.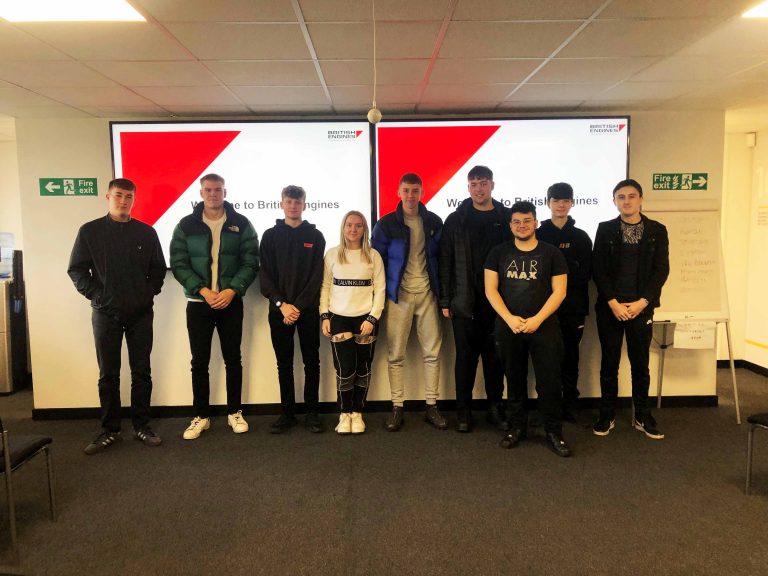 Our award-winning Apprenticeship+ scheme provides apprentices with invaluable hands-on experience in a range of engineering skills, alongside three recognised professional qualifications.